NEGA
Name: Jin 儿
Part : Vomiting , Vocal
Birthday : He won't say XD
Type : O
Favourite brand : Dior
Likes : tomato juice
Hates : Being selfish
Dream : Nega
Cigarette : Doesn't smoke
Comment : Nega is a part of me, It's not my everything, but it's part of me.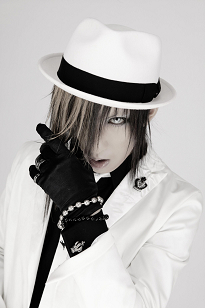 Name: SAN
Part : Guitar
Birthday : 4/25
Type : A
Favourite brand : doesn't really have one
Likes : Scary movies and gaes
Hates : worms and catterpillars XDD
Dream: Being aware of the entire world's suffering
Cigarette: Doesn't smoke
Comment: Rather than listening and liking, please have feelings first
Name: Hiroki 弘揮
Part : Guitar
Birthday: 10/07
Type: A
Favourite brand : LOUIS VUITTON
Likes : tobacco
Hates : insects
Dream : that it continues evolving, mono (Neither I nor the original writer get it, sorry.)
Cigarette: John Player Special
Comment: Please enjoy nega with all your might!
Name: RAY
Part : Bass
Birthday : 4/20
Type : O
Favourite brand : Sawayama
Likes : Sushi and spiritualists
Hates : Mr.G (ゴキ)
Dream: it's a secret O.o
Cigerette : SEVEN STAR
Comment: Please be broken freely concerning the worldwide impression without of having these 5 everywhere.
Name: Yuu 優
Part : Drum
Birthday : 8/19
Type : A
Favourite brand : BVLGARI
Likes : tea in powderform and yoghurt
Hates : people with bad manners
Dream : To do tours around the world
Cigarette : Doesn't smoke
Comment : Everyone being with me, we would like to feel each other's feelings
Indies, label UNDERCODE PRODUCTION
Nega was founded in December 2004 by bassist
Ray (e. Aliene Ma'riage, ex Vinett) and the singer Jin. Their first cd is a
demo called Yoru ni Aru Kibou, Asa ni Kuru Zetsubou. Not too long after that, drummer Yuu (ex DHIANA) joins the group; and after having participated in a compilation, they record their first mini album THE Faded Film of a Japanese Sadness.
From the beginning, they have used various temporary guitarists, until the official integration of Hiroki and finally SAN, who would be the second guitarist in Nega.
As such, they have started doing several tours, and have played next to Cannival Method, with whom they make another CD. Later, the merry masters of hard core join in the event '2006 Summer Tour – D efection D eep D epression' in places such as the HOLIDAY NAGOYA, Osaka MUSE,…
At the end of the year Nega leave on tour with the entire UNDERCODE PRODUCTION group.
At the start of 2007, Nega don't slack, because they release two maxi singles in about two months, both produced by Kisaki, 'abase' and 'quadrangle'. The 11th of January, they join the event UNDER CODE PRODUCTION & HOLIDAY PRESENTS 「STRAWBERRY SEEDS Vol. 4 」.
Writer's Opinion: This young group who have already got a bunch of compilations under their belt, are well worth the listen. They haven't reinvented anything, musically, but at least they're doing a hell of a job. Jin will startle you with his powerful cry, while the rhythm will have you headbanging in no tyme. Their chic/gore style goes perfectly with the music. If you like hard, screams and Videos even gorier than you could possibly imagine, then Nega is the band for you!!
Official Site : http://www.ne-ga.com/frame.html
(Written by Kaya-san, translated by Deadly Claris)